Stay in Korean Traditional-style house or 'hanok', and experience the Korean-style Hanok living!
Bukchon Guest House is neat and inexpensive. And a great way to experience Korean Culture!
Bukchon Guest House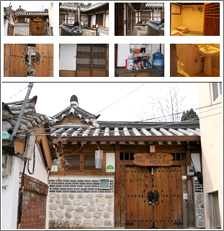 Bukchon Guest House used to be the home of Bae Ryeom (1911-1968), a Joseon Dynasty painter. Registered as the 35th National Cultural Heritage of Korea, Bukchon Guest House is comprised of three hanok-style houses situated in close proximity to each other. All of the rooms have been remodeled using yellow soil, and now have modern amenities and ondol (underfloor heating). Also, Bukchon Guest House regularly holds traditional cultural experience programs, including making Korean dishes, trying on hanbok (Korean traditional clothing) and learning traditional

etiquette

.

Single rooms: 40,000 won / Twin rooms: 60,000 won /
Double rooms: 70,000 won / Triple rooms: 90,000 won


Anguk Station (Subway Line 3), Exit 3 → Go straight for 50m, and turn left onto Gyedong-gil Road → Go straight for 500m to arrive at Bukchon Guest House on the left
Address: Seoul, Jongno-gu, Gye-dong 72
Tel: +82-10-8001-8321
Homepage:

www.bukchon72.com
Info from - http://english.visitkorea.or.kr/enu/SI/SI_EN_3_6.jsp?cid=260969
(http://www.youtube.com/watch?v=pQKX12tLcdA&feature=share&list=PLFDC71F01EEC02554)
Gao Chengnu's Story
from
Jarrod Hall
on
Vimeo
.