Award-winning baker Dan Lepard reveals the best of Singapore's many pastry shops and cake stalls, where you can indulge in everything from delicious Chinese custard tarts to delicate French macarons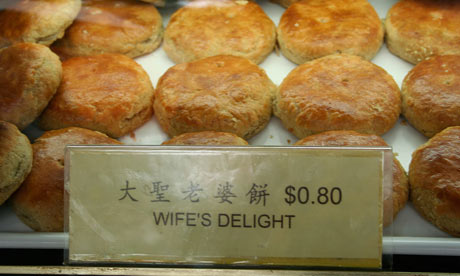 Every time I walk out of Changi airport's air-conditioning into the humid outdoors, there's a sweet and slightly fermented aroma that hits me on the first breath. A dozen visits to Singapore and I'm still startled by it. Within the hour, I barely notice it. But later, if I'm walking past a tiny bakery in Chinatown, like the ones that sell egg custard tarts on Sago Street, the combined effect of the sugary toasted aroma from the baking and that aromatic Singapore air can be overwhelming. So much so that it instantly triggers my carb craving and I'm immediately queuing to buy a cake.
There are sweet things to buy almost everywhere – in a run of shops on the street, in the basements of shopping malls and the hawker stalls – and they encompass most of the cultures in Singapore. Predominantly, you'll see Chinese, Malay, British and Indian bakeries or cake stalls. More recently, French trained or influenced pastry chefs are affecting the look and flavour of some of the local recipes.
The sheer number of bakeries and cake shops in Singapore can partly be explained by the significance of sweet gifts in local life. Where we in Europe might offer alcohol as a gift to our hosts, in Asia cakes and sweets are often given. For a Singaporean without time or space to bake at home, cake shops provide a solution to an etiquette dilemma.
Home-style recipes dominate much of what's available. Once, the ingredients used to make these cakes and sweets were expensive, so a recipe that combined sugar, butter or oils, spices, and refined flours and grains were made infrequently at home unless you were wealthy. Today's intensive agriculture and relative wealth have made the ingredients much more affordable – but what has vanished is the time to cook and bake them. So many of the shops have stepped in and offer something similar to what would have been baked at home. Here are some of my favourites:
1. Xi Di Li for sweet breakfast doughnuts
This stall faces on to Sims Avenue, and covers no more than a few square metres, yet somehow they mix, fry and serve up delicious cakes in this tiny space. Go in the morning, around 10am, and the first of the day's sweet morning buns, called Ma Jian, will be hot from the fat and ready to eat. They taste like slightly sweet, firm and chewy doughnuts, deftly shaped into something looking like two oblong madeleines joined at the waist and sprinkled with sesame seeds before being plunged into the fryer. At 70 cents (about 31p), they're a bargain for breakfast.
• Xi Di Li, on Sims Avenue between Lorong 27 and 25a Geylang
2. Thye Moh Chan Cake House for peanut brittle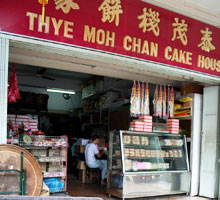 In a slightly rough and vaguely alarming ramshackle setting, this sweet shop makes really good peanut brittle, a very traditional Chinese sweet. The morning I went everyone was wrapping gift boxes of brittle for the weekend. Very little English spoken, so pick and hand sign for the amount you want.
• Thye Moh Chan Cake House, 53 Lorong 27 Geylang
3. Hock Khong for coconut buns
This large, cool open dim sum tea house is very basic, with red plastic garden chairs, ceiling fans and formica tables, and the kitchen area appears to be dotted among the seating. Come 10 in the morning they start to serve soft coconut yeast buns and sweet red bean puffs. Go up to the counter, choose what you want then go to a table and the staff will bring it to you.
• Hock Khong, cnr Lorong 27 Geylang and Sims Avenue
4. Loong Fatt Eating House for Wife's Delight
My friend Jiong took me to this large old cafe that has been making these cakes since the 1970s. A vast open kitchen is set back 10 metres from the seating space at the front of the shop, strewn with odd tables and chairs, while a line of customers snakes down the middle. The cakes, Tau Sar Piah, are a bit like an Eccles cake would be if it were cooked on a griddle, and the flaky pastry used is curious. It's made by taking two walnut-sized balls of dough, one loaded with lard and the other plain, then they're patted together, rolled up, patted and rolled again to make a bespoke puff pastry to cover each cake. A sweet paste of cooked winter melon and sesame is spooned inside and the dough wrapped around it à la Eccles. Baked in a blazing hot plate and flipped once to scorch both sides, the cakes are served piping hot.
• Loong Fatt Eating House, 639 Balestier Road
5. Kim Choo Kueh Chang for Peranakan sweets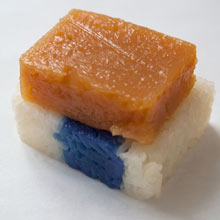 Do ask about the sweets and cakes in this family shop, bakery and museum as some of the staff speak excellent English and know the history in detail. The first floor is home to a small museum and restaurant accessed via a narrow staircase to the left of the store, while the ground floor shop feels like an apothecary with biscuits and pastries in tall screwtop jars. Look out for the soft rice cakes swirled with blue, a Peranakan wedding sweet called Pulut Tai Tai. Though it looks as vivid as a dye from a bottle, it's actually the extract from a native blue pea flower. Their version of a chocolate muffin, made with a complicated overnight cornstarch ferment is gluten-free and soft textured with a rich, deep chocolate flavour.
• Kim Choo Kueh Chang, 109 East Coast Road.
6. Regent Hotel for yuzu soufflé
The ground foyer of the Regent Hotel is quiet and utterly calming, so even if you're tight for cash this is a very pleasant and refreshing oasis to visit. The Regent Hotel's pastry chef, Phillip Lee, adds to the vast banquet on offer with a delicate soufflé that combines the sharp mandarin flavour of the Japanese yuzu fruit folded through a rich custard. Lee often takes traditional Chinese flavours, like the ingredients from a Chen Teng soup – dried longan, pandan leaves and rock sugar – and uses them to flavour an afternoon tea cake, or turns black sesame or red bean paste into delicate French macarons. Inventive and remarkable baking.
• The Regent Hotel, 1 Cuscaden Road
7. Mandarin Oriental for classic French patisserie
Patisserie in Singapore is vastly better than in London, and young pastry chef Ruben Jan Adrian, fresh from Pierre Marcolini's chocolaterie in Brussels and the kitchens of Pierre Hermé in Paris, is one of the chefs making this happen. Last Christmas he had the most beautiful spiced stollen on sale and a curious and excellent pannetone studded with crimson-stained sugared almonds. This Easter he had hot cross buns and handmade Valrhona chocolate eggs. If you take a seat in the fourth-floor Axis bar, you can watch the stonking great build for the Marina Bay Sands casino complex: think Meccano construction on an epic scale. Sitting in cool bliss with a stand of delicate tea cakes, tarts and a pot of tea, you can become a tranquil James Bond gazing at Casino Royale being built.
• The Mandarin Oriental, 5 Raffles Avenue, Marina Square
9. Puteri Mas for durian puffs and jackfruit muffins
The best place to buy durian cream puffs is at Puteri Mas, situated in one of the restored colonial buildings in Joo Chiat Road, an area that is calm during the day and a bit more racy at night. The shop is nothing special, fluorescent lit with almost no seating. But these puffs will challenge your taste buds. I quite like durian, the armadillo-skinned fruit with a weird rotted aroma, on its own or in ice cream. But these cream puffs filled with durian pulp, though undoubtedly fine, I find too hard to swallow. Whereas the jackfruit muffins they sell here, with a deep golden yellow crumb and flavoured additionally with freshly grated coconut, can be eaten without effort.
• Puteri Mas, 475 Joo Chiat Road
10. Leung Sang Hong Kong Pastries for custard tarts in Chinatown
There's some debate about the best sweet egg custard tarts in Chinatown. Leung Sang tends to feature often in the top list, and their thick crisp pastry is lovely, not too oily, and the filling gently puffed. But if you walk around the corner, maybe two or three shops back into Chinatown, there are a few pastry shops that make tarts where the filling is more dense, with a creamy texture. Sago Street and the area immediately around it is great for takeaway food, and there are tables out the front of many shops to eat at.
• Leung Sang Hong Kong Pastries, 18 Sago Street
Chinese Communist Party Brutal persecution of Falun Gong in China 中共残酷迫害法轮功